Superhero Movies have been running their course over several decades with many hits, and some misses. Regardless of the outcome of any of these, the heightened awareness attached to these movies is immense. Marvel, DC, & Valiant Entertainment will have have the bulk of the offerings, but the $ attached to making these movies is enormous and can't be overlooked in your marketing plans.
Here's quick education for those in the fog. Warner Brothers has the rights to DC Comics  which will have Wonder Woman-2017 & 2020 ,and the #1 hit 2018 Aquaman (Justice League ) and Green Arrow, The Flash, Supergirl and Gotham on CW & Fox.
Disney owns Marvel, but is watching closely as contracts expire on certain Marvel equities with other major studios. Within that contract Universal has had Hulk, and has a Marvel Island in their theme parks. Marvel  has Avengers, Thor, Captain America, Guardians of the Galaxy, Antman and Dr Strange. Disney will be buying Fox which has given us X-Men Franchise, Deadpool & Fantastic 4 , Daredevil, Nic Cage & Jennifer Jones on Netflix (which have been cancelled) , Sony gives us Spiderman Homecoming 2 & MIB 4 out in 2019 & Venom 2 , Morbius 2020.
Valiant Entertainment's Bloodshot starring Vin Diesel ,Harbinger, Faith have 6 movies from Sony.
Hopefully you get my point, that we just can't ignore them and that the overloaded marketplace can appear to have some saturated fat.
The other reason to love them is that they (in most cases) are "all family" movies which broadens your offerings to your shoppers. All in all these films have sold Billions of $ in merchandise and still rule the buzz meters in social media.
Here's the scoop most of them are tentpole pictures for their respective studio's and tend to have plenty of promotional partners.  When researching an opportunity in the Superhero genre, pay specific attention to whom the other licensee's are, when the movie is released in the calendar are there other events adjacent to the film's release, and are their physical attributes the characters have that play into your brands ( i.e. color, size, letters etc. )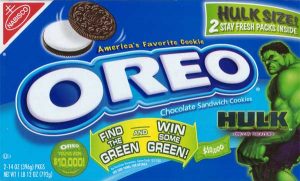 I have seen very few players in promotion play in all the arena's Valiant , Marvel & DC have for their properties. I also know from experience that they tend to be a bit greedy as you move from licensed equities within their properties. I am hoping to see a player use all these opportunities to drive an extensive reach to existing and new shoppers. A typical property can have promotional opportunities tied to a movie, TV, print (comics), numerous other new category tie-ins (for your brands) such as theme parks, character /actor appearances etc.
Take a look at the calendar, and think big. Get your organization to broaden the promotional opportunity offered by these superheros and start realizing super results. Don't forget you and your brand are quite the hero's also!!
This is just another example of Haaseline Entertainment helping close the Sale.

Posted by Haaseline Entertainment on Thursday, March 3, 2011
For more information on how to morph your brand in a supersize promotion and become a superhero in your company contact Haaseline Entertainment. Let us help you  have a fit brand with no saturated fat , but all the trimmings.